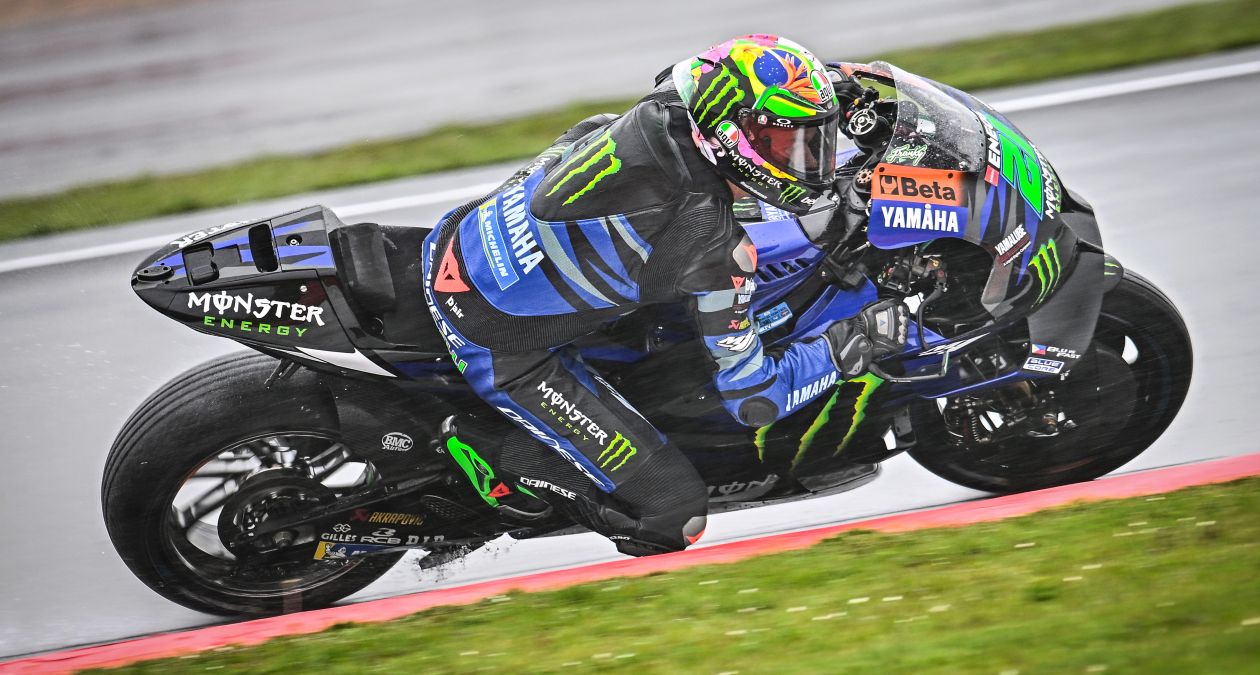 Monster Energy Yamaha MotoGP Riders' Quotes after Qualifying in Silverstone

Very rainy conditions meant mixed results for the Monster Energy Yamaha MotoGP Team. Franco Morbidelli managed to go through Q1 and went on to qualify in 11th place in Q2. Fabio Quartararo was unlucky to have a big moment in Turn 16 in Q1 which cost him valuable time. He will start this afternoon's Sprint and tomorrow's Race at the Silverstone circuit from P22.
Silverstone (UK), 5th August 2023
The Monster Energy Yamaha MotoGP teammates had to navigate a drenched Silverstone Circuit in today's qualifying sessions at the Monster Energy British Grand Prix event. The cold conditions and standing water made it tricky to push, but Franco Morbidelli soldiered on and made it through Q1. In Q2 many yellow flags came out, making it hard to get a fast lap in. He ultimately took 11th place on the grid. In Q1 Fabio Quartararo skilfully avoided hitting the tarmac in what could have been a nasty accident in Turn 16. However, it still cost his dearly: he will start today's Sprint and tomorrow's Race from P22.

Morbidelli was the star of Q1. He used the first two laps to get a feel for the conditions and then showed his experience and posted a 2'18.645s, taking over the top spot. He continued his progress, setting multiple fastest times of the session, to end it with a best time of 2'15.884s on lap 6/6. It kept him in first place, 1.001s ahead of his fastest rival.

After the positive Q1, Morbidelli was ready to push in the 15-minute Q2 shoot-out. He moved up to third with a 2'16.885s third lap, but then multiple yellow flags came out as the track got wetter again and various riders crashed. Unable to get a better lap time in, the Italian ended the session in 11th place, 1.526s from pole.

In Q1, Quartararo's 2'22.931s benchmark lap saw him briefly in sixth place, after which disaster struck. He was looking to make further progress on lap 3, but a huge moment in Turn 16 saw him go off track, and it cost him valuable time trying to get the bike back on track and then to the pit. Once back out, he had time for only one more lap but didn't find a time improvement. Quartararo ended the Q1 session in 12th place, putting him in 22nd place on the grid.