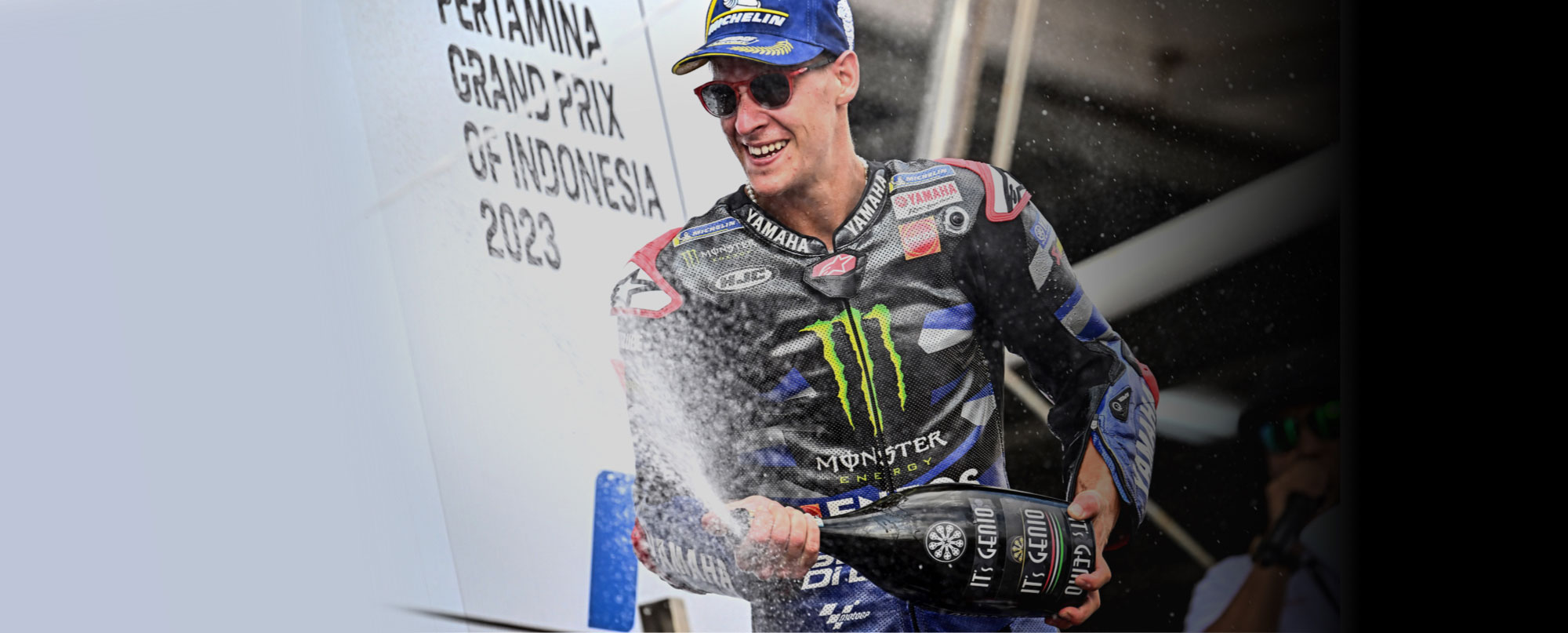 YFR history
Yamaha Factory Racing is Yamaha's wholly owned full Factory Team in MotoGP. The team was founded in 1999 following the retirement of Grand Prix racing legend Wayne Rainey, who had run a factory-supported team in the 500cc class for the previous two years. A new company - Yamaha Motor Racing B.V. - was set up in the Netherlands to manage all but the technical side of Yamaha's international racing activities and to run the team.
In 2005, Yamaha Motor Racing B.V. as a company completed the move from the Netherlands in order to create a single Yamaha MotoGP European operation in Italy (Yamaha Motor Racing Srl), strengthening and centralising the management of the Yamaha Factory Racing MotoGP team.
Yamaha Motor Racing Srl is based in Gerno di Lesmo (Italy), close to Monza. The workshop was rebuilt in 2008 and a state-of-the-art facility was opened, giving the team a superb new headquarters with all technical, logistical, managerial, and marketing & communications departments under one roof. The workshop's interior was further updated at the end of 2022, giving the engineers more space to work with.
Although responsibility for the technical aspects of MotoGP remains predominantly with Yamaha's MotoGP Group in Japan, a number of Japanese and European engineering staff complete the European MotoGP set-up.
Takahiro Sumi was appointed President of Yamaha Motor Racing Srl at the beginning of 2023, while Lin Jarvis is Managing Director, a position he has held since the start of the company in 2005. Former Yamaha Superbike Team Manager Massimo Meregalli took on the role of Team Director of the Yamaha Factory Racing MotoGP team in 2011.
In 2023, the Monster Energy Yamaha MotoGP team are competing in the MotoGP World Championship with riders Fabio Quartararo and Franco Morbidelli.
Yamaha Factory Racing Statistics
2022

Fabio Quartararo (FRA) – 2nd MotoGP World Championship, 3 wins and 8 podiums
Franco Morbidelli (ITA) – 19th MotoGP World Championship, 0 wins and 0 podiums


2021

Fabio Quartararo (FRA) – 1st MotoGP World Championship, 5 wins and 10 podiums
Maverick Viñales (SPA) – 1 win and 2 podiums
Cal Crutchlow (GBR) – 0 wins and 0 podiums
Franco Morbidelli (ITA) – 17th MotoGP World Championship, 0 wins and 1 podium


2020

Maverick Viñales (SPA) – 6th MotoGP World Championship, 1 win and 3 podiums
Valentino Rossi (ITA) – 15th MotoGP World Championship, 0 wins and 1 podium


2019

Maverick Viñales (SPA) – 3th MotoGP World Championship, 2 wins and 7 podiums
Valentino Rossi (ITA) – 7th MotoGP World Championship, 0 wins and 2 podiums


2018

Valentino Rossi (ITA) – 3rd MotoGP World Championship, 0 wins and 5 podiums
Maverick Viñales (SPA) – 4th MotoGP World Championship, 1 win and 5 podiums


2017

Maverick Viñales (SPA) – 3rd MotoGP World Championship, 3 wins and 7 podiums
Valentino Rossi (ITA) – 5th MotoGP World Championship, 1 win and 6 podiums
Yamaha's 500th Grand Prix Win – Rounds 5: Le Mans (Maverick Viñales)

2016

Valentino Rossi (ITA) – 2nd MotoGP World Championship, 2 wins and 10 podiums
Jorge Lorenzo (SPA) – 3rd MotoGP World Championship, 4 wins and 10 podiums
Team World Champion

2015

Jorge Lorenzo (SPA) – 1st MotoGP World Championship, 7 wins and 12 podiums
Valentino Rossi (ITA) – 2nd MotoGP World Championship, 4 wins and 15 podiums
Constructors World Champion - Team World Champion

2014

Valentino Rossi (ITA) – 2nd MotoGP World Championship, 2 wins and 13 podiums
Jorge Lorenzo (SPA) – 3rd MotoGP World Championship, 2 wins and 11 podiums

2013

Jorge Lorenzo (SPA) - 2nd MotoGP World Championship, 8 wins and 14 podiums
Valentino Rossi (ITA) - 4th MotoGP World Championship, 1 win and 6 podiums

2012

Jorge Lorenzo (SPA) - 1st MotoGP World Championship, 6 wins and 16 podiums
Ben Spies (USA) - 10th MotoGP World Championship, 0 win and 0 podiums

2011

Jorge Lorenzo (SPA) - 2nd MotoGP World Championship, 3 wins and 10 podiums
Ben Spies (USA) - 5th MotoGP World Championship, 1 win and 4 podiums

2010

Jorge Lorenzo (SPA) - 1st MotoGP World Championship, 9 wins and 16 podiums
Valentino Rossi (ITA) - 3rd MotoGP World Championship, 2 wins and 10 podiums
Constructors World Champion - Team World Champion

2009

Valentino Rossi (ITA) - 1st MotoGP World Championship, 6 wins and 13 podiums
Jorge Lorenzo (SPA) - 2nd MotoGP World Championship, 4 wins and 12 podiums
Constructors World Champion - Team World Champion

2008

Valentino Rossi (ITA) – 1st MotoGP World Championship, 9 wins and 16 podiums
Jorge Lorenzo (SPA) – 4th MotoGP World Championship, 1 win and 6 podiums
Constructors World Champion - Team World Champion

2007

Valentino Rossi (ITA) - 3rd MotoGP World Championship, 4 wins and 8 podiums
Colin Edwards (USA) - 9th MotoGP World Championship, 0 wins and 2 podiums

2006

Valentino Rossi (ITA) – 2nd in MotoGP World Championship, 5 wins and 10 podiums
Colin Edwards (USA) – 7th in MotoGP World Championship, 0 wins and 1 podium

2005

Valentino Rossi (ITA) – 1st in MotoGP World Championship, 11 wins and 16 podiums
Colin Edwards (USA) – 4th in MotoGP World Championship, 0 wins and 3 podiums
Team World Champion

2004

Valentino Rossi (ITA) – 1st in MotoGP World Championship, 9 wins and 11 podiums
Carlos Checa (SPA) – 7th in MotoGP World Championship, 0 wins and 1 podium
Team World Champion

2003

Carlos Checa (SPA) – 7th in MotoGP World Championship, 0 wins and 0 podiums
Marco Melandri (ITA) – 15th in MotoGP World Championship, 0 wins and 0 podiums

2002

Max Biaggi (ITA) – 2nd in MotoGP World Championship, 2 wins and 8 podiums
Carlos Checa (SPA) – 5th in MotoGP World Championship, 0 wins and 4 podiums

2001

Max Biaggi (ITA) – 2nd in 500cc World Championship, 3 wins and 9 podiums
Carlos Checa (SPA) – 6th in 500cc World Championship, 0 wins and 3 podiums

2000

Max Biaggi (ITA) – 3rd in 500cc World Championship, 2 wins and 4 podiums
Carlos Checa (SPA) – 6th in 500cc World Championship, 0 wins and 4 podiums

1999

Max Biaggi (ITA) – 4th in 500cc World Championship, 1 win and 7 podiums
Carlos Checa (SPA) – 7th in 500cc World Championship, 0 wins and 1 podium