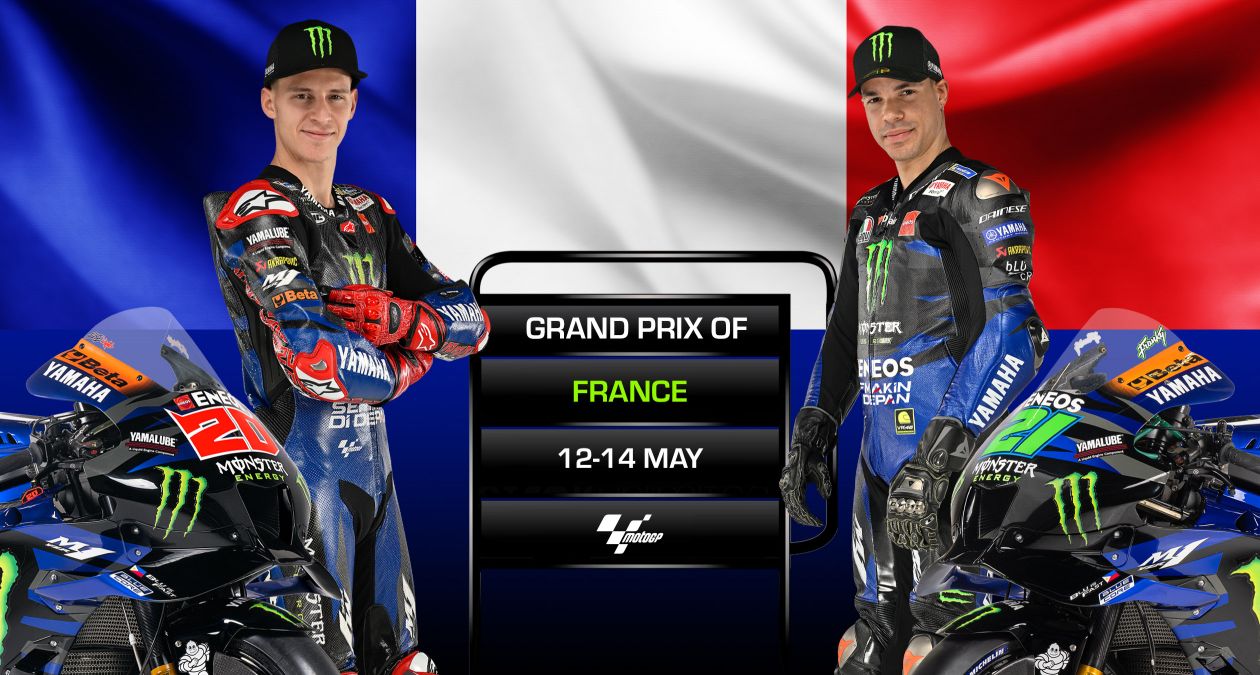 Monster Energy Yamaha MotoGP Prepped to Perform in French GP
Monster Energy Yamaha MotoGP teammates Fabio Quartararo and Franco Morbidelli are heading to France for the fifth round of the 2023 MotoGP World Championship, held at the Le Mans Bugatti Circuit this weekend.
Le Mans (France), 10th May 2023
The Monster Energy Yamaha MotoGP Team are ready to put up a fight at the Le Mans Bugatti Grand Prix race circuit during this weekend's Grand Prix de France, aiming to hear the fans screaming "Allez Les Bleus!".
This round is especially important for home hero Fabio Quartararo, who finished here just off the podium last year and is keen to make up for it this weekend. The Bugatti track has traditionally been a strong circuit for Yamaha, so El Diablo is fully motivated to offer some stiff competition, like he did when he scored third place on his home soil in 2021. The local hero is currently 11th in the championship standings and determined to climb up in the rankings.
After four rounds, Morbidelli holds 12th in the championship order. Following the overall positive one-day IRTA test in Jerez that was held immediately after the Spanish GP, the number-21 rider's goal for this weekend is to confirm some of his findings again. The Le Mans track is a good place to do so: Morbido likes this circuit, as underlined by his 2017 Moto2 race win.
The Bugatti Grand Prix race circuit was built in 1965, just a few kilometres from the city of Le Mans. MotoGP made its first visit to the iconic French track in the late sixties, and it remained a fixture until 1996. After some safety modifications, the 4.2km-long circuit was added back to the calendar in 2000. Its layout of five left and nine right corners places the emphasis on late braking, hard acceleration, and rear-end traction, which makes for some great battles.
Those who want to watch some early Bugatti track action can watch MotoGP eSport rider Lorenzo Daretti navigate a very wet French circuit
in this week's eLap video
.
French GP | eSport eLap Video