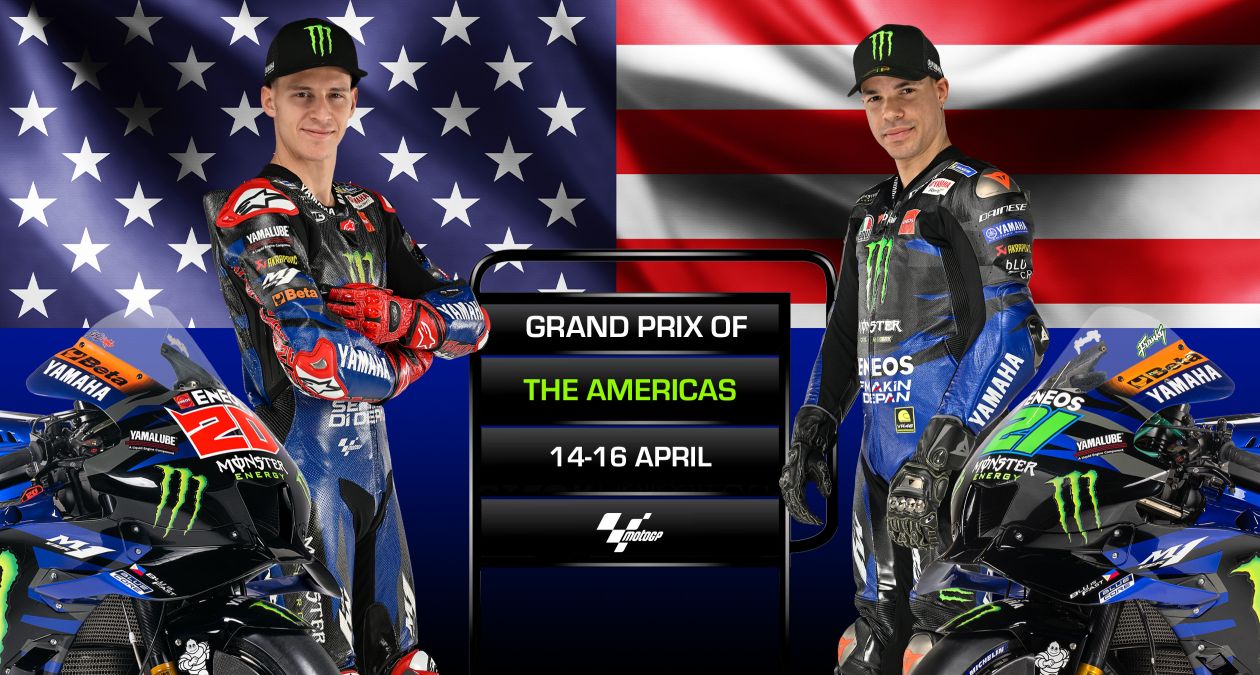 Monster Energy Yamaha MotoGP Ready to Commence COTA Race Weekend
The Monster Energy Yamaha MotoGP Team have travelled to the USA for Round 3 on the 2023 MotoGP calendar.
Austin (Texas), 12th April 2023
After a one-week break following the opening double-header, the Monster Energy Yamaha MotoGP Team have made their way to Austin, Texas for this weekend's Grand Prix of The Americas. Franco Morbidelli and Fabio Quartararo both like the COTA track and are fancying their chances this weekend.
Morbidelli aims to bring over his strong form from the Argentina GP and again fight among the front of the rider field this weekend. Thanks to two solid 4th-place finishes last time out, he is now ninth in the overall standings.
Though the Austin circuit is known as quite tricky to get right, Morbido has taken a liking to its unique characteristics and is anticipating a positive race weekend. His best performances at COTA include his win in 2017 in the Moto2 class and the fifth place he scored with Yamaha in the premier class in 2019.
Quartararo arrives at the Circuit of the Americas (COTA) holding tenth place in the championship standings with a 3-point gap to his teammate. The competition is still wide open, and with good memories of the COTA track, El Diablo is ready to for the challenge.
In 2015, his very first year visiting COTA, the Frenchman immediately scored a second place in the Moto3 class. In 2021, he equalled this feat on a MotoGP bike in only his second premier class race in Austin, which was crucial for his championship win at the next round in Misano.
Constructed in 2013, The Circuit of The Americas (COTA) was added to the Grand Prix schedule that same year. Its length of 5513m and mixture of fast straights and tight hairpins make the track both challenging and exciting to master for teams and riders. They need to find exactly the right balance for their bike's set-up to suit the 11 left, 9 right turns, and the 1,200m straight in order to snatch a place on the podium. The especially sharp Turn 1 will be a spot where the fans can expect a lot of overtaking action, both at the start and during the race.
Those who wish to get to know the COTA track better can watch our latest
MotoGP eSport Helmet Cam video
.
The Grand Prix of The Americas is held in the GMT -5 time zone. P1 will take place on Friday from 10:45 - 11:30 local track time, followed by P2 from 15:00 - 16:00. On Saturday, FP will be held from 10:10 - 10:40, the qualifying sessions from 10:50 - 11:30, and the Sprint starts at 15:00. On Sunday, Warm Up is held from 09:45 - 09:55 and the race starts at 14:00.
Americas GP | eSport eLap Video