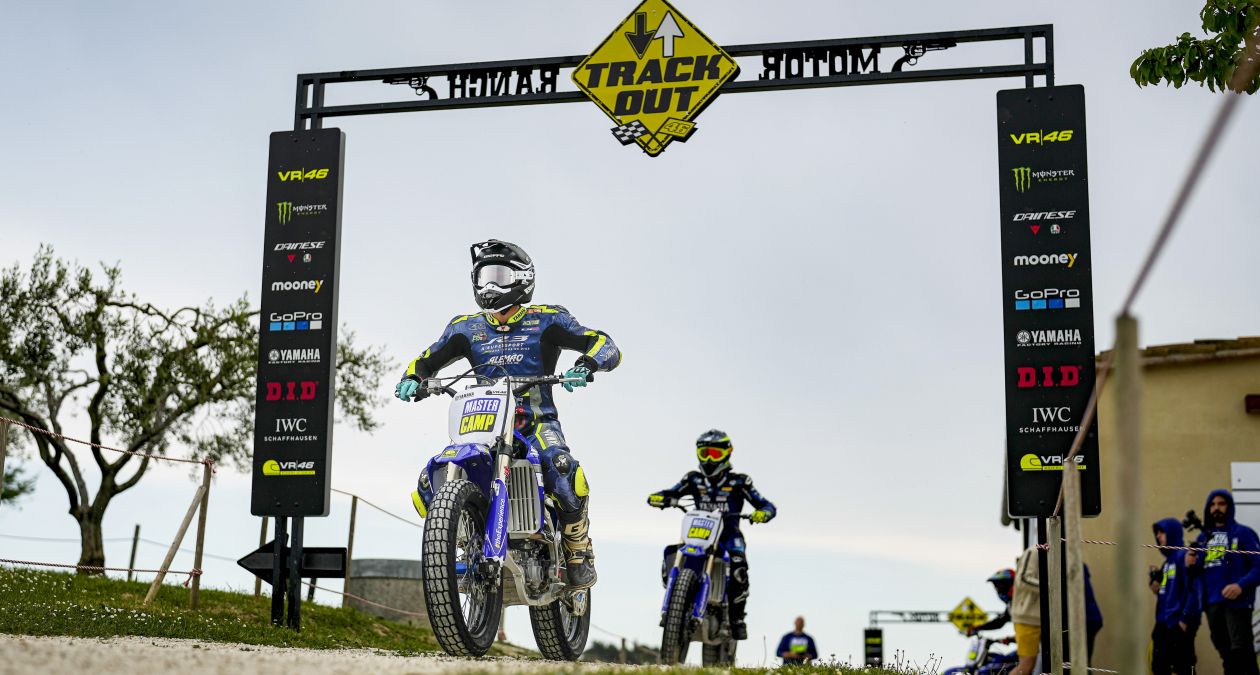 12th Yamaha VR46 Master Camp to Kick Off Next Week

Pictures for editorial use only
Copyrights 2023 Yamaha Motor Racing Srl
Yamaha Motor Co., Ltd. and the VR46 Riders Academy once again come together in Tavullia to collaborate on their shared young talent training programme. The 12th Yamaha VR46 Master Camp, held from 19 - 25 May 2023, is one day longer than the usual format and will be attended by two European, one Latin American, and three Asian 2023 Yamaha R3 bLU cRU European Championship participants.
Tavullia (Italy), 13th May 2023
The
Yamaha VR46 Master Camp training programme
is back for its
twelfth edition from 19 - 25 May 2023
, again staged at
Valentino Rossi's VR46 Motor Ranch
and several other VR46 Rider Academy training locations.
As the twelfth edition is the only Master Camp training week scheduled for 2023,
Yamaha
and
VR46
have opted to make this training camp especially intense: adding an extra day and allowing an extra participant to join the once-in-a-lifetime event.
All six selected talented riders are currently competing in
Yamaha Motor Europe's 2023 Yamaha R3 bLU cRU European Championship
and are already getting used to operating in a World Championship paddock. The lucky riders are:
Eduardo Burr
(aged 16) from Brazil,
Dawid Nowak
(aged 14) from Poland, 
Marc Vich
(aged 16) from Spain,
Krittapat Keankum
(aged 18) and
Thurakij Buapa
(aged 19) from Thailand, and
Shoma Yamane
(aged 15) from Japan.
The Yamaha VR46 Master Camp training programme is intended to nurture talent. Racing and fitness professionals designed the Master Camp specifically with the aim to give young Yamaha stars a boost by enhancing their riding technique and overall professionalism.
To improve the twelfth edition Master Camp recruits' skills, they will have a chance to ride at the VR46 Motor Ranch's Flat Track on
YZ250F
s and on its MX track for soft cross training on
YZ125
s. Furthermore, the youngsters will be riding at the Circuito di Pomposa on
YZF-R3
s, at Jeepers Park - Cattolica on MiniGP
YZ85
bikes, and will also be turning their hands to go-karts at Jeepers Park.
The students will be joined by their
VR46 Academy
seniors at every session for some personal coaching. This year the 'coaching panel' will be joined by
Correos Prepago Yamaha VR46 Master Camp
rider
Manuel Gonzalez
, who will bring the competence and expertise he gathered in the 2022-2023  Moto2 seasons to the selected bLU cRU riders.
Besides riding, the protégées will also work out at the Fisio Gym and receive
MotoGP eSport
lessons from
Monster Energy Yamaha MotoGP's Lorenzo Daretti
, aka Trastevere73.
Moreover, the twelfth-edition riders will be provided with new Yamaha VR46 Master Camp outfits for on and off-track wear (made possible by
Oakley
,
Alpinestars
, and
VR46
).
News, images, videos and updates from the Yamaha VR46 Master Camp will be posted regularly on Correos Prepago Yamaha VR46 Master Camp's social media channels (Facebook and Instagram) and Monster Energy Yamaha MotoGP Team's website and YouTube channel throughout the twelfth edition:
Monster Energy Yamaha MotoGP website

Facebook
Instagram
YouTube