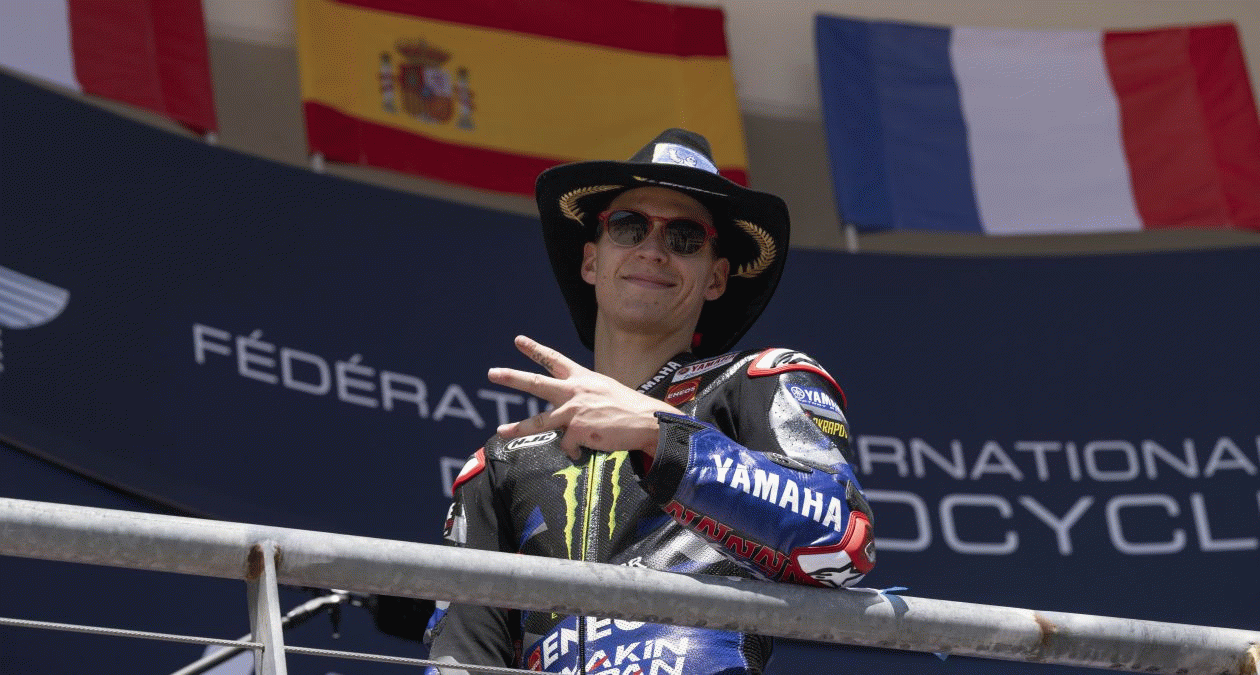 Quartararo Takes Terrific Third Place in Texas Rodeo

Pictures for editorial use only
Copyrights 2023 Yamaha Motor Racing Srl
The Circuit of the Americas took no prisoners in this afternoon's MotoGP race. The 20-lap Grand Prix of The Americas saw many riders make costly mistakes, but Monster Energy Yamaha MotoGP's Fabio Quartararo remained faultless and rallied to a superb third place. Franco Morbidelli also reaped fruits from the tricky race and took solid points thanks to an eighth-place finish.
Austin (Texas), 16th April 2023
Monster Energy Yamaha MotoGP's Fabio Quartararo bounced back from a disappointing Sprint with a Superman performance in the Grand Prix of The Americas MotoGP Race. He raised his game to another level to take third place, his first podium of the season. Franco Morbidelli had a lonely but fruitful ride at the Circuit of The Americas, holding eighth position across the finish line.

Quartararo had another great start from seventh on the grid and was again in fourth place after the opening lap. Despite battling with Luca Marini, the Yamaha man was able to break away. He then put pressure on Jack Miller in third position.

Both Miller and Francesco Bagnaia soon crashed out of the race, moving El Diablo up to second place. But Marini was not letting the Frenchman keep it without a fight. Quartararo tried to make his M1 as wide as possible but in the end had to settle for third. He concentrated on finishing the race without mistakes and crossed the line 4.936s from first.

Morbidelli started from fourteenth and, manoeuvring skillfully in the busy midpack, ended the opening lap in 11th place. With multiple riders crashing out, some of them ahead of the Italian, Morbido found himself in eighth position by lap 11.

The race became a lonely experience for the Monster Energy Yamaha MotoGP rider, but he still needed to stay 100% focused to secure the eight points in hand. He kept pushing and took the chequered flag in eighth place, 20.399s from the race leader.

Today's results see Quartararo climb up to 7th in the overall standings with now 34 points. Morbidelli is in 10th place with 29 points. The Monster Energy Yamaha MotoGP Team move to 4th place in the team championship with 63 points, and Yamaha are in fifth in the constructor's championship with 43 points.

The Monster Energy Yamaha MotoGP Team will have one week off before they start Round 4, the Gran Premio MotoGP de España, held at the Circuito de Jerez – Ángel Nieto.