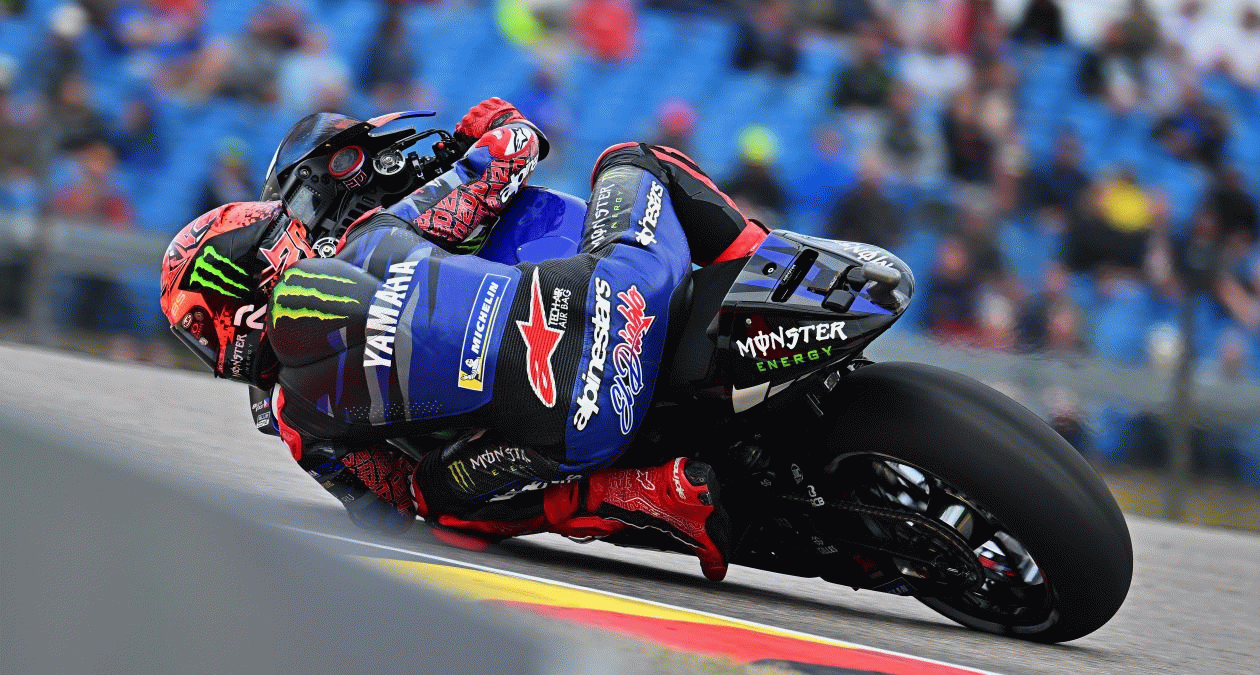 Monster Energy Yamaha MotoGP Riders' Quotes after Qualifying at the Sachsenring

Monster Energy Yamaha MotoGP's Fabio Quartararo and Franco Morbidelli have qualified in 12th and 17th place respectively for this afternoon's Sprint and tomorrow's Race at the Motorrad Grand Prix Deutschland.
Sachsenring (Germany), 17th June 2023
The Monster Energy Yamaha MotoGP teammates had to contend with mixed track conditions at the Sachsenring during this morning's Motorrad Grand Prix Deutschland MotoGP sessions. Fabio Quartararo took part in Q2 and completed it in 12th place. Franco Morbidelli placed 7th in the Q1 rankings, which puts him in 17th on the starting grid for today's Sprint and tomorrow's Race.

With a proper dry line having formed by the start of Q2 after a wet FP session, Quartararo had his YZR-M1 fitted with slick tyres. He was pushing from the get-go and clocked a 1'23.921s best lap on his first run, which put him in eighth place around the midway stage. The Frenchman quickly changed tyres before heading back out again with over six minutes remaining. He was aiming for a place on the front two rows. He put in some good attempts, setting the fourth fastest time two times in a row, but he soon found himself down the rankings again as the pace quickened. The Yamaha man had two more goes. He improved his time to a 1'22.421s but was still pushed back to 12th in the final stages. El Diablo threw caution to the wind on his last try, but yellow flags meant the lap time was cancelled. He completed the session in 12th place.

The Q1 session was extra tricky as some parts of the Sachsenring were wetter than others. Morbidelli opted for a medium-soft rain tyre combination for the start of the 15-minute shoot-out. His initial hot lap briefly put him in the top 2, but by the time he returned to the pits at the end of his third lap, he was in fourth place, 0.172s from a place in Q2. He pushed and temporarily got the job done, moving up to second place, but he was soon relegated to fourth again. He had two minutes remaining and left it to his ninth and final lap to set his best time. He clocked a 1'27.908s, but he didn't better his placement. The track had dried so much in the final stages that the riders on slicks had the advantage. The Italian finished the session in seventh place.