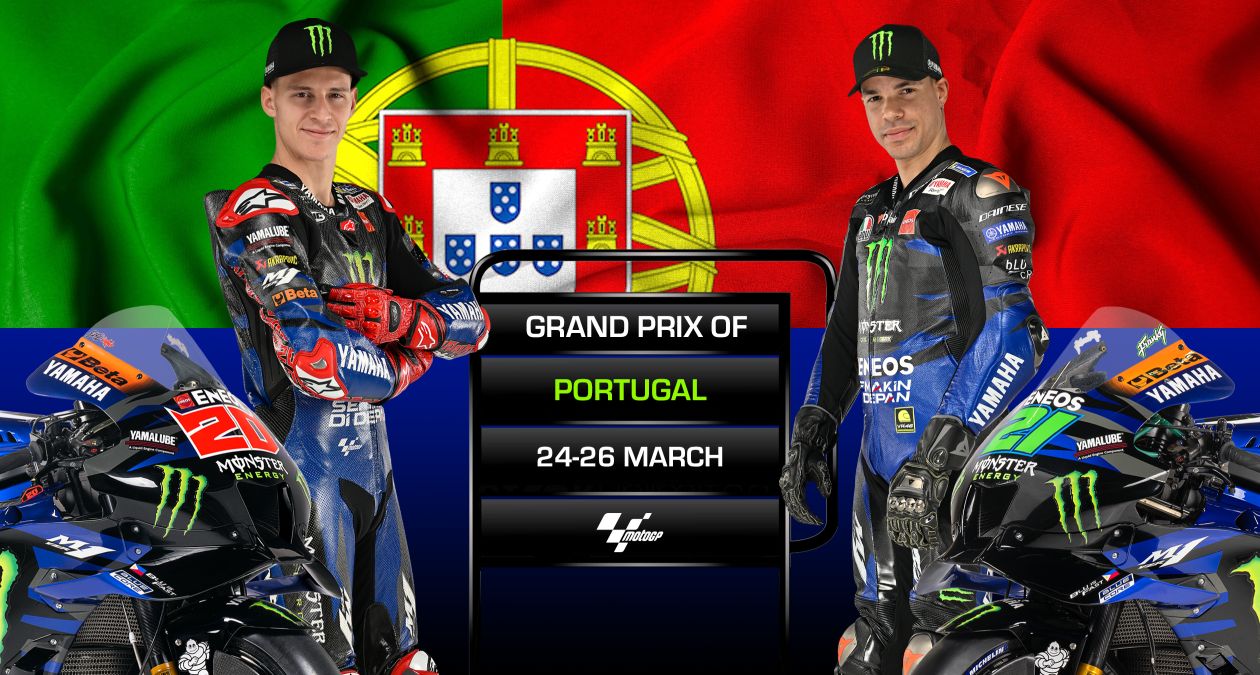 Monster Energy Yamaha MotoGP Poised for 2023 MotoGP Season Start in Portugal
Following the Portimao MotoGP Official Test almost a fortnight ago, Monster Energy Yamaha MotoGP's Fabio Quartararo and Franco Morbidelli have travelled back to the Autódromo Internacional do Algarve to kick off the 2023 MotoGP season this weekend with the Grande Prémio de Portugal.
Portimao (Portugal), 22nd March 2023
The Monster Energy Yamaha MotoGP Team are eagerly awaiting the start of the new MotoGP season, which for the first time is staged at the Autódromo Internacional do Algarve. Fabio Quartararo and Franco Morbidelli are looking forward to experiencing the new MotoGP race weekend format (including a Sprint on the Saturday) and give it their all to start the season off on the right foot.
Following an overall successful Portimao MotoGP Official Test, held almost two weeks ago, Quartararo is eagerly looking forward to riding his YZR-M1 at the Algarve track again. The combination of El Diablo and his Yamaha have proved to be a winning formula at this circuit in 2021 and 2022, making the Frenchman enter the 2023 Portuguese GP as one of the fan favourites.
Morbidelli, like many riders, has taken a liking to the Autódromo Internacional do Algarve and its rather special lay-out. The elevation changes require a perfect setting and skilled riding. The Italian showed his potential at the very first MotoGP race in Portimao in 2020 by securing third place, and he finished in fourth place at the Portuguese GP in 2021. The Italian is keen to fight for the podium again this year.
The Autódromo Internacional do Algarve – better known as Portimao (after the port city from which it is half an hour's drive removed) – is situated in the Algarve region of Portugal. The circuit was opened in 2008 and added to the MotoGP calendar in 2020. It's a big hit with the riders but also especially with the fans, who can't get enough of their heroes taking on this track that is famous for its elevation changes. The circuit has 15 corners – nine right, six left – and the front straight will allow the MotoGP riders to really stretch the legs of their machines before a unique downhill descent into Turn 1.
Those who want to refresh their memories of what the Algarve circuit looks like, can watch the
on-board helmet-cam lap by MotoGP eSport star Lorenzo Daretti
.
As Daylight Saving Time commences this Sunday, the Grande Prémio de Portugal time schedule is in the GMT +0 time zone for Friday and Saturday, and in GMT +1 for Sunday. With the addition of Sprints in 2023, this weekend's MotoGP timetable (in local track time) looks as follows:
Friday
Practice 1:
10:45 - 11:30 (GMT +0)
Practice 2:
15:00 - 16:00 (GMT +0)
Saturday
Free Practice:
10:10 - 10:40 (GMT +0)
Qualifying 1:
10:50 - 11:05 (GMT +0)
Qualifying 2:
11:15 - 11:30 (GMT +0)
Sprint:
15:00 (GMT +0)
Sunday
Warm Up:
09:45 - 09:55 (GMT +1)
Race:
14:00 (GMT +1)
Portuguese GP | eSport Helmet Cam Video