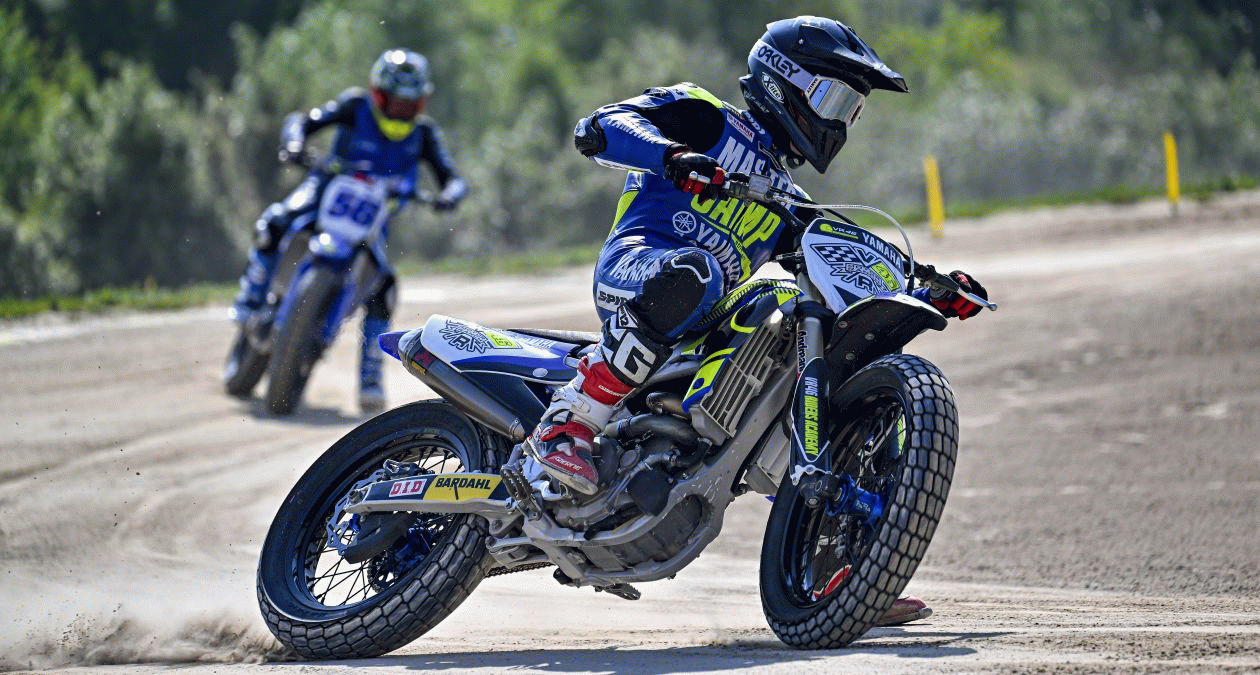 12th Yamaha VR46 Master Camp Students Get a Taste of Flat Track Action on Day 2

Pictures for editorial use only
Copyrights 2023 Yamaha Motor Racing Srl
After a strong start on Day 1, the new Yamaha VR46 Master Camp recruits were ready for a challenge: they completed two flat track sessions on their second day and visited the VR46 Store.
Tavullia (Italy), 22nd May 2023
The
12th Yamaha VR46 Master Camp
riders got serious about 
flat track
riding skills on Day 2. They completed both a morning and an afternoon session at the
VR46 Motor Ranch
and
shopped at the VR46 Store
.
Eduardo Burr
(Brazilian, aged 16),
Dawid Nowak
(Polish, aged 14),
Marc Vich
(Spanish, aged 16),
Krittapat Keankum
(Thai, aged 18),
Thurakij Buapa
(Thai, aged 19), and
Shoma Yamane
(Japanese, aged 15) could hardly wait to start riding their
Master Camp YZ250F bikes
at
Valentino Rossi's VR46 Motor Ranch
. They met up with
flat track instructor Marco Belli
again. They were also joined by
Correos Prepago Yamaha VR46 Master Camp Moto2 rider Manuel Gonzalez
who gave additional tips as the riders dedicated the morning and afternoon session to riding position and throttle control.
Despite the busy morning, the riders could have ridden at the Flat Track for hours longer, but they were asked to make their way to the
Bar, Ristorante e Pizzeria Da Rossi
. The students made the most of their lunch break and did some serious shopping at the updated
VR46 Store
next door (where also the
official Monster Energy Yamaha MotoGP replica gear
is available).
After their shopping spree, the young talent went back to perfecting their flat track basic skills. With the help of
Gonzalez
and
Belli
, they booked great progress, moving on from slaloming and figures of eight to riding on the small oval and gaining speed.
Both coaches were very pleased with the pupils' professionalism.
"It was a nice day, because it was the first time for these riders to ride on the oval of the VR46 Motor Ranch"
, said
Gonzalez
at the end of the day.
"The first time trying a new discipline and new track is never easy, also for me that was hard. I was surprised by the level. Of course, they are still learning because everything is different from what they are used to. I told them a few tricks, and I'm just happy that I'm able to help the Master Camp.""The morning session was a pleasant surprise"
, added
Belli
.
"We did many exercises to help the riders gain confidence with the surface and the motorcycles. After a few times we already saw that they had full control over their bikes. They were looking safe and secure, so we could move on to correcting their technique a bit here and there. "We had a full day at our disposal, so that allowed us to continue our work in the afternoon and try the oval. Manuel's presence helped a lot! He was riding amongst them and pushed them to increase their speed. We also tried the Americana track at the end. They completed some practice starts and did some good laps – so I'm a happy teacher. And they seem like happy riders too – which is also important!
Watch the Day-2 activities 
HERE
.
MC12 | Day 2 - Review Video