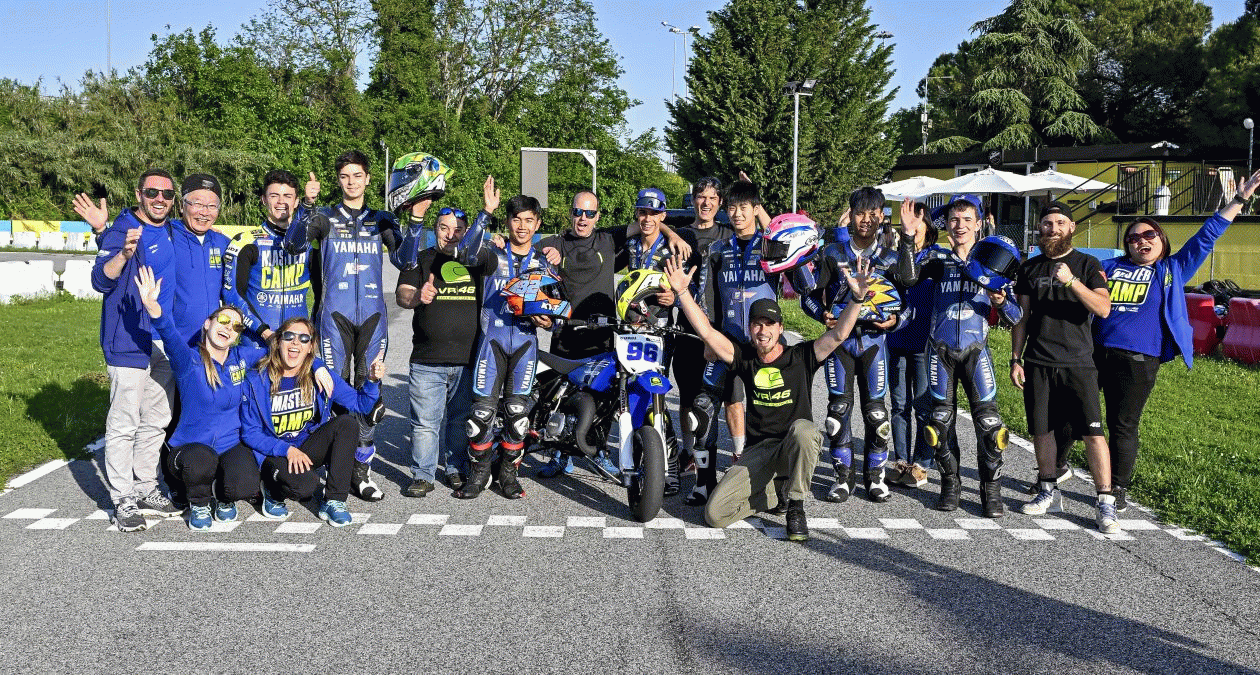 12th Yamaha VR46 Master Camp Students Prove Multiskilled on Day 3

Pictures for editorial use only
Copyrights 2023 Yamaha Motor Racing Srl
The third day of the 12th-edition Yamaha VR46 Master Camp was especially full on. The six recruits measured their newly gained flat track skills against Franco Morbidelli, learned all the inside MotoGP eSport tricks from three-times World Champion Lorenzo Daretti (aka Trastevere73), and showed their speed on MiniGP bikes in front of Manuel Gonzalez.
Tavullia (Italy), 23rd May 2023
On Day 3 of the
12th Yamaha VR46 Master Camp
,
Eduardo Burr
(Brazilian, aged 16),
Dawid Nowak
(Polish, aged 14),
Marc Vich
(Spanish, aged 16),
Krittapat Keankum
(Thai, aged 18),
Thurakij Buapa
(Thai, aged 19), and
Shoma Yamane
(Japanese, aged 15) showed their skills in three very different disciplines:
flat track
,
MotoGP eSport
, and
MiniGP
.
Back at the
VR46 Motor Ranch
in the early morning, the students this time found
 Franco Morbidelli
waiting for them beside 
flat track instructor Marco Belli
. The
Monster Energy Yamaha MotoGP rider
had decided to dedicate some of his free time to helping the Master Camp students reach the next level in flat track training. Both
Belli
and
Morbidelli
joined the Master Camp protégées on track to analyse their riding style from up close.
"We had a good morning at the VR46 Motor Ranch"
, said
Morbidelli
after the training session. 
"I spent the whole morning with the young guys. It's always nice to see their emotions about being here and having been given this wonderful opportunity. It's nice to see how the young guys are growing as riders, and how they are approaching the sport.

"My tip for them is to always keep going. You will face adversities, for sure, but if becoming a World Championship rider is what you really want, you need to keep searching and working, also when the going gets tough. But I have to say that these guys are already on a great level. This young generation already starts racing with the right mindset and the right approach."


Belli
commented:
"After today's session, I'm a bit tired – but for all the right reasons! I put on my leathers today to join the guys on track, so I was very involved with them. We also had Franco Morbidelli with us, who is a superkind and supercool guy. We had the chance to race all together. The two of us were overtaking the Master Camp guys and then let them past again, trying to push them, to have them follow us, and trying to speed them up.

"Because these guys know what to do on a bike, at the end of the day they were all set to take on the full racetrack, which is a magical experience. We saw big smiles from the riders but also good speed. So, everyone is happy!"
Back at the
VR46 Motor Ranch
after lunch, the students found six gaming computers ready for them. In their first
MotoGP eSport session
, they focused on the basic skills needed: a good set-up, keyboard control, track knowledge, mental focus. Their teacher,
Triple MotoGP eSport champion Lorenzo Daretti (aka Trastevere73)
, commented:
"In the first session we did two training exercises: two sessions of 30 minutes. One in Misano and one in Motegi. I was surprised by the level, if I'm honest, in particular with Shoma – he came close to my lap time. I was teaching them how to brake because in the MotoGP22 game that's very tricky. They learned how to do it the right way. In the final stages of the practice session, I helped them choose the correct set-up of the bike. They improved more after that. In the next MotoGP eSport session, we will do a qualifying and race in both Misano and Motegi, and I'm excited to see how they will do."


After the gaming excitement, the riders were ready to tackle the next discipline:
MiniGP racing at the Jeepers Kart track
. The riders were joined by
Correos Prepago Yamaha VR46 Master Camp's Manuel Gonzalez
again who, although this session was supposed to be fun, was not going easy on the students. He was keen to teach them about choosing the correct lines, body position, braking points, and more before they were put to the test.
The riders went all out in a race which was won by
Vich
.
Keankum
came in second, ahead of
Yamane
in third place.
"It was a good afternoon of training, also for me"
, shared
Gonzalez
.
"I have a lot of experience with MiniGP bikes. I've been training with this type of bike all my life, so I felt confident that I was able to share my knowledge with these guys. I think we did a good job. I shared some tricks with them, and I'm happy that they enjoyed it. "The riding style with this bike is very different from riding a four-stroke. You have to brake quite hard, enter the corner, and try not to lose engine power. I think this type of bike is the most enjoyable, because you can slide a lot on corner entry and then go on the gas. It's good for young riders to train with this type of bike."
At the end of the day, the Master Camp riders also visited the
Nicky Hayden memorial
in Misano to pay their respects to the MotoGP legend who tragically passed away on May 22nd, 2017.
Relive the action of the Day-3 activities
HERE
.
MC12 | Day 3 - Review Video