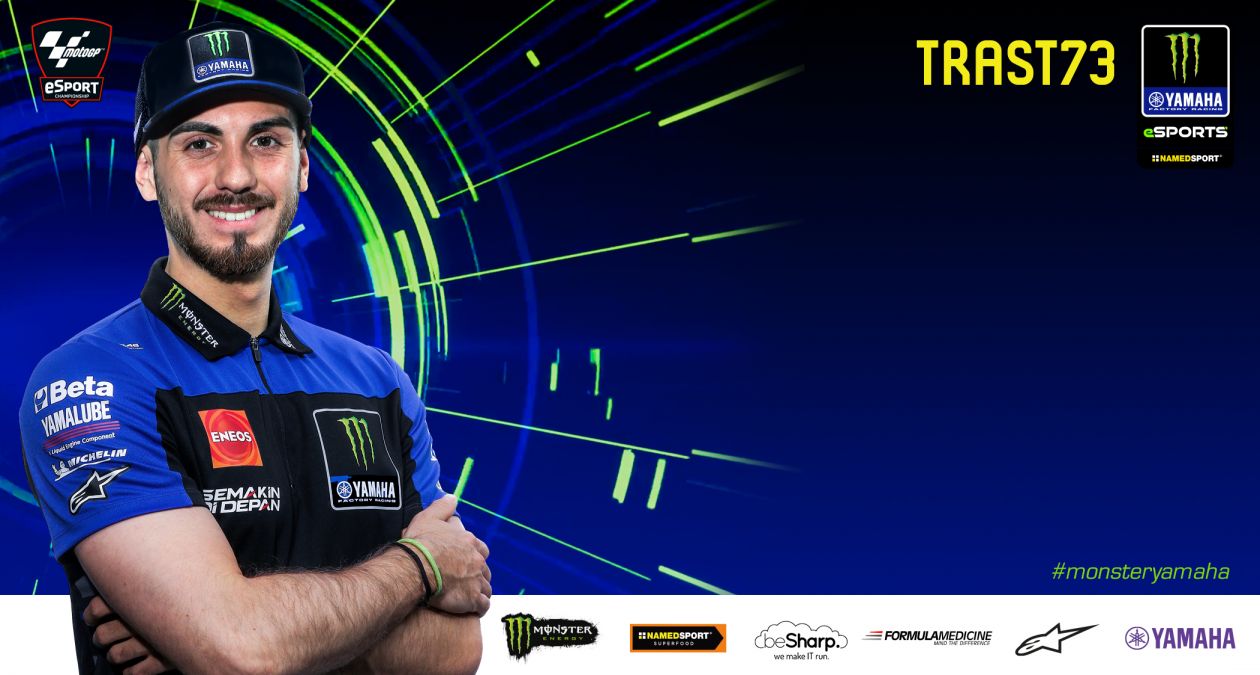 Monster Energy Yamaha MotoGP's Lorenzo Daretti Guns for 2023 MotoGP eSport Title

Pictures for editorial use only
Copyrights 2023 Yamaha Motor Racing Srl
Monster Energy Yamaha MotoGP are delighted to announce the continuation of their partnership with triple MotoGP eSport World Champion Lorenzo Daretti. He will again be the official Yamaha Factory e-Rider in 2023.
Gerno di Lesmo (Italy), 23rd August 2023
The 2023 MotoGP eSport Championship is set to kick off on 25th August with the first round of the Global Series. The Monster Energy Yamaha MotoGP Team are delighted to take this opportunity to announce the renewal of their contract with triple MotoGP eSport World Champion Lorenzo Daretti, also known by his gamer tag Trastevere73 or Trast73.

Daretti has been Monster Energy Yamaha MotoGP's e-Rider of choice since 2019. The triple MotoGP eSport Champion is a consistent protagonist in the series and is seen as the man to beat. He finished Vice Champion in 2019 and 2020, but he stood on the top step in 2021 after a brilliant performance in the live broadcast of the last round in Valencia.

After a disappointing end to the 2022 challenge, Monster Energy Yamaha MotoGP and Daretti are determined to make 2023 their year again. To mark their dedication to the task ahead, Monster Energy Yamaha MotoGP launched their refreshed MotoGP eSport team logo. The new design signals a new era for the Monster Energy Yamaha MotoGP x Trastevere73 partnership in which they have taken the necessary steps to claim the MotoGP eSport trophy in this fast-changing environment.

This year, the 24-year-old Italian took on a new challenge, participating in the MotoGP eSport Pro Draft on a gaming console rather than a PC like he did in the previous years. Nevertheless, he again passed the Pro Draft challenges with flying colours and positioned himself as a main contender in the upcoming Global Series competition.

The 2023 MotoGP eSport Global Series will count four rounds, held over the period from 25th Aug to 11th Nov. This year the championship is more demanding than ever, as each round will not only consist of two races but will also include a sprint.

During the 2023 Global Series, 73Trast's avatar will again have customised rider gear (leathers, boots, gloves and helmet) matching that of the Monster Energy Yamaha MotoGP Team to finish off the complete rider look. Moreover, Official Sponsors and Partners Monster Energy, NamedSport, beSharp, Formula Medicine, Alpinestars, and Yamaha Home Audio will provide all the required gaming support.

Besides cheering Daretti on in the MotoGP eSport Championship, fans can look forward to seeing him in action at various promotional activities. Being a biker himself, he will also participate in various Yamaha and Official Sponsor/Partner events on track and on road.