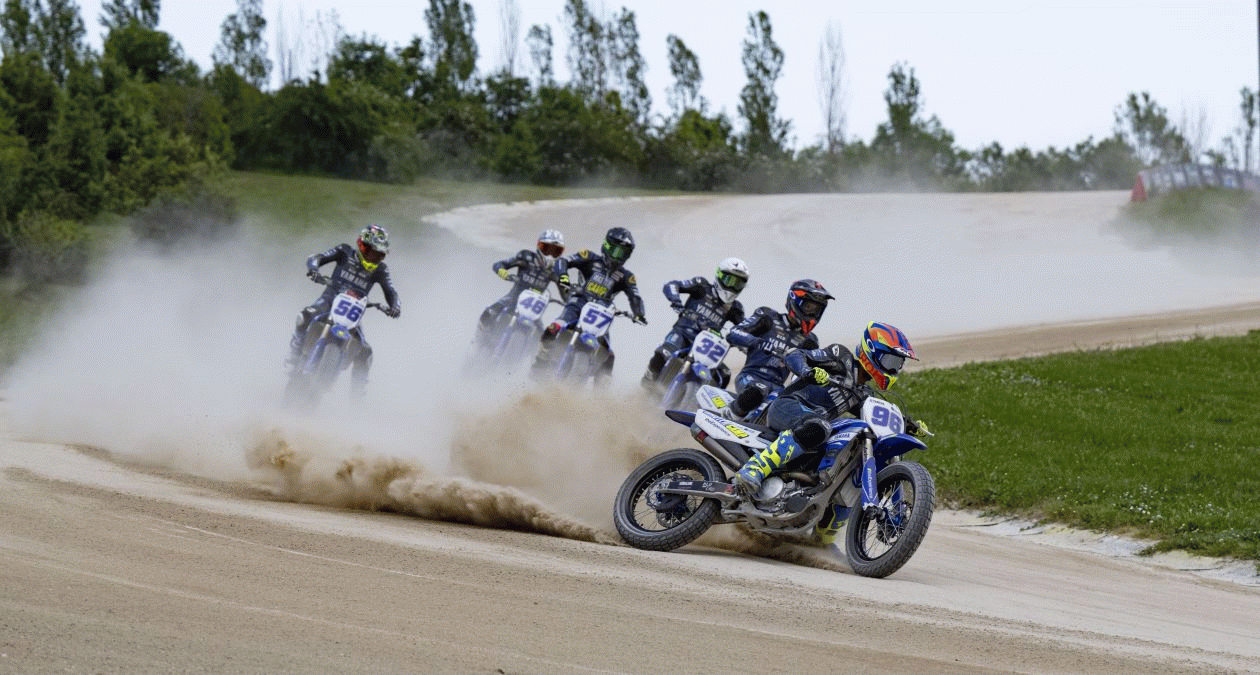 12th Yamaha VR46 Master Camp Students Go Full Gas at the VR46 Motor Ranch on Day 5

Pictures for editorial use only
Copyrights 2023 Yamaha Motor Racing Srl
The 12th-edition Yamaha VR46 Master Camp recruits returned to the VR46 Motor Ranch on Day 5 for two further flat track sessions, and they also competed in two MotoGP eSport races.
Tavullia (Italy), 25th May 2023
The
12th Yamaha VR46 Master Camp
riders showed great progress on Day 5. They got in
two more flat track sessions
, and they also proved their
MotoGP eSport
progress to
triple World Champion Lorenzo Daretti
.
Eduardo Burr
(Brazilian, aged 16),
Dawid Nowak
(Polish, aged 14),
Marc Vich
(Spanish, aged 16),
Krittapat Keankum
(Thai, aged 18),
Thurakij Buapa
(Thai, aged 19), and
Shoma Yamane
(Japanese, aged 15) had been looking forward to riding the
YZ250F
bikes at the
VR46 Motor Ranch
once more. Their
flat track instructor Marco Belli
was again present to give the students hints and tips, and
Celestino Vietti
and
Manuel Gonzalez
joined the riders out on track to evaluate how they were applying the techniques.
After a quick lunch, again at
Bar, Ristorante e Pizzeria Da Rossi
, they were impatient to hop back aboard their
YZ250F
bikes at the Motor Ranch. But first their
MotoGP eSport skills were tested
in a friendly match-off. The winner was
Yamane
, with
Nowak
coming second, and
Keankum
finishing third.
Their teacher
 Daretti (aka Trastevere73)
, commented:
"The guys enjoyed the session a lot, so that's already important. They were all riding with the same set-up, so it was a level playing field. We did four races in total: two normal races in Misano and Motegi, and then sprints at Mugello and the Chang circuit. The points were of course distributed accordingly."In the end it was Yamane who came first. He is clearly the most experienced. But they all improved a lot compared to the first day. That, and the fact that they had so much fun, makes these classes very enjoyable."
After the gaming excitement, the riders went back to perfecting their
flat track
riding, where
Andrea Migno
and
Belli
upped the ante. The recruits were asked to put their newly acquired skills to the test in a
Superpole
 amongst the six protégées. The contest was won by
Vich
(taking his third gold medal of the four on offer at the 12th-edition Master Camp). Compatriots
Keankum
and
Buapa
secured second and third place respectively.
"Flat track is a very difficult discipline"
, stated Migno.
"The guys are already riding well for the short number of days they've been here. I'm happy about their level. We noticed an improvement over this session as well. The riders did a one-on-one and a Superpole. There were some crashes, but that's normal in the beginning. I'm happy about the progress of the riders. I hope they enjoyed it. I enjoyed it, so see you next year Master Camp!"
Belli
wrapped up the day saying:
"It was another long, long day of training – but it was supercool because we had two riders from the VR46 Academy joining us, and Manu. Celestino came in the morning, Migno joined in the afternoon, and both did a great job with these guys. They understood the technique better. We did a Superpole and some of the lap times were very good. To ride at the VR46 Motor Ranch for the first time and clock 2'15s-2'16s is impressive. I think it shows that we did a good job training them, but also that they did a good job listening, absorbing information, and following the huge amount of advice given to them in the last few days."
Watch the Day-5 activities
HERE
.