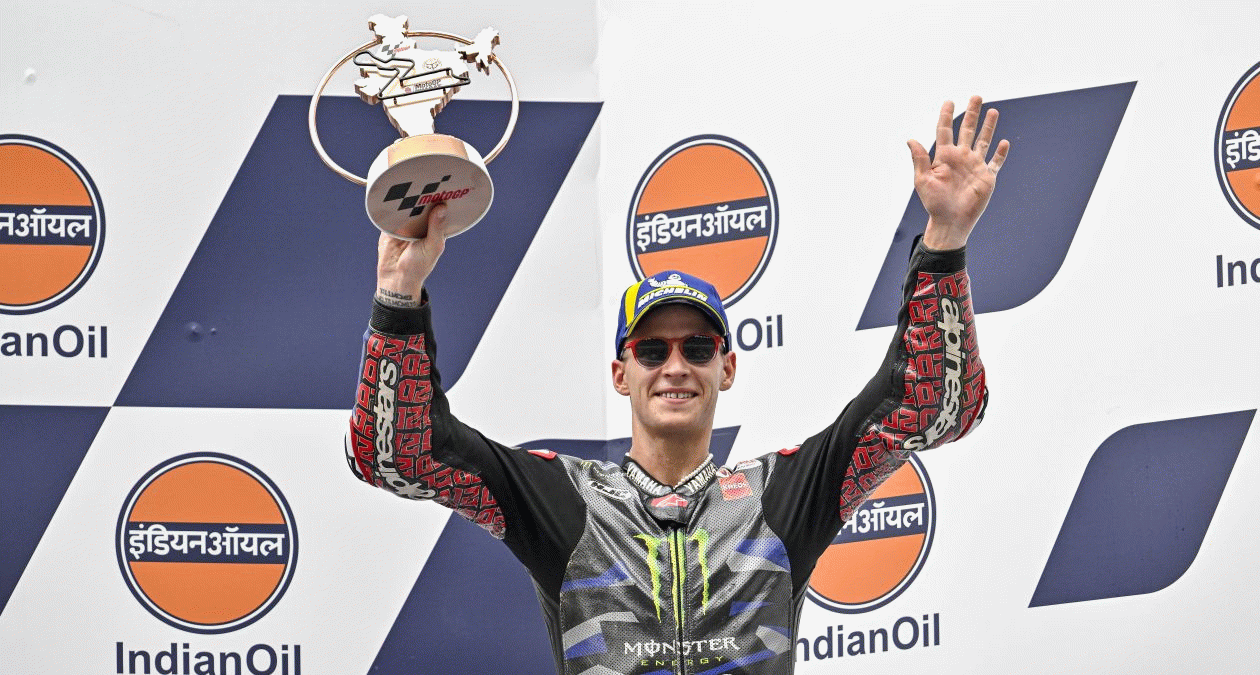 Quartararo Takes Terrific Third Place in Indian GP

Pictures for editorial use only
Copyrights 2023 Yamaha Motor Racing Srl
The Monster Energy Yamaha MotoGP teammates withstood incredibly difficult riding conditions and reaped the rewards. Fabio Quartararo stood on the podium after the very first Grand Prix of India. Franco Morbidelli rode from P15 to P7, earning solid points.
Greater Noida (India), 24th September 2023
Despite the sweltering heat and humidity, the Monster Energy Yamaha MotoGP teammates gave top-athlete performances. Fabio Quartararo returned to the MotoGP rostrum after a faultless race and third-place finish, just 0.206s off the runner-up. Franco Morbidelli was engaged in battles with various riders and made up a total of eight positions to take seventh place at the chequered flag.

Though qualified in P8 and P17, the teammates started the Race at the Buddh International Circuit from P7 and P15 as Luca Marini and Alex Marquez were deemed unfit to ride.

Quartararo had a good start taking sixth position in the opening corners. He was in the mix at the front and briefly held fourth place before settling into fifth. With 16 laps to go, a crash from Marc Marquez allowed the Frenchman to move up to fourth with a 1s gap to Francesco Bagnaia in third. Unable to inch closer, nor having anyone closely behind him, it became a lonely ride for El Diablo. However, with Bagnaia crashing out on lap 14, the Yamaha rider was lifted into a podium position. On the last lap, he came close to overtaking Jorge Martin, who was struggling with leather malfunctions and the overwhelming heat. Though Quartararo ultimately came just short, he enjoyed the battle. He crossed the finish line in third place, 8.855s from first.

Morbidelli had a great start and opening laps, going from P15 on the grid to P9. As Marquez had a mishap on lap 6, the Italian moved up to eighth. He was not home and dry just yet though: Johann Zarco and Fabio Di Giannantonio were in close pursuit. The Yamaha man rode defensively but had to let Zarco pass with ten laps to go. However, as Aleix Espargaró had retired from the race one lap earlier, Morbido still held eighth place. He shook off Di Giannantonio, and with Bagnaia crashing out on lap 14, the number-21 rider was back in seventh place riding all by himself until he was challenged by Maverick Viñales on the final laps. Morbidelli didn't give in and still held seventh as he took the chequered flag, 16.946s off the race leader.

Today's results see Quartararo keep his 11th place in the overall standings with now 105 points. Morbidelli remains in 12th with 77 points. The Monster Energy Yamaha MotoGP Team are 6th in the team championship with 182 points, and Yamaha climbs up to 4th position in the constructor's championship with 125 points.

The Monster Energy Yamaha MotoGP Team will now travel straight to Japan for Round 14, the Grand Prix of Japan, held next weekend at the Mobility Resort Motegi.