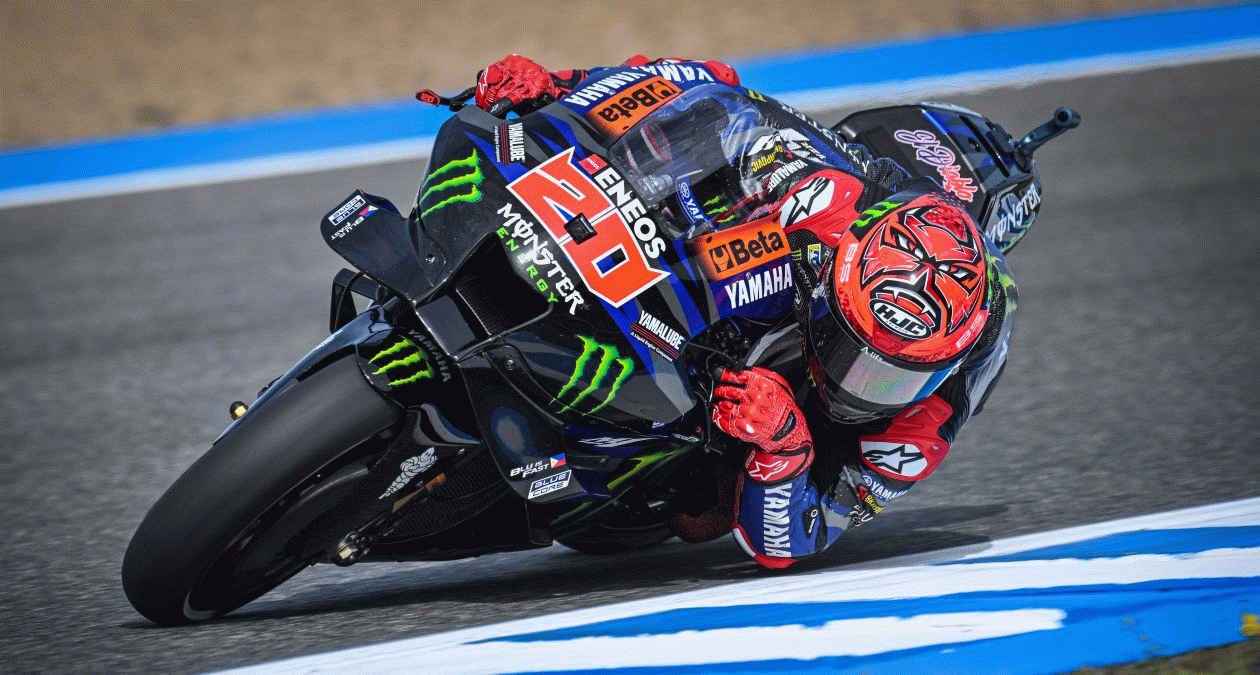 Monster Energy Yamaha MotoGP Search for Perfect Set-Up on Scorching Spanish GP Friday

Pictures for editorial use only
Copyrights 2023 Yamaha Motor Racing Srl
Monster Energy Yamaha MotoGP's Fabio Quartararo and Franco Morbidelli experienced a difficult first day at the Circuito de Jerez - Ángel Nieto. They finished in 16th and 17th place respectively in the combined P1 + P2 results.
Jerez de la Frontera (Spain), 28th April 2023
Monster Energy Yamaha MotoGP's Fabio Quartararo and Franco Morbidelli ended a hot first day of the Gran Premio MotoGP de España in 16th and 17th place respectively in the combined practice timesheets. The teammates will have to take part in tomorrow's Q1 session.

Quartararo needed less than ten minutes in P1 to put his M1 at the top of the provisional rankings. But the level of the other riders in the morning session was very competitive. The Frenchman opted to stay out on his medium-soft tyre combination to assess tyre degradation in the hot Andalusian temperatures. His 1'38.073s best time, set on lap 6/20, put him in 18th place, 1.303s off the fastest time.

El Diablo was quick to provisionally top P2 again, before settling in second place. The number-20 rider was keen to set hot laps in the one-hour long afternoon session. Despite the increased heat and wind, the Yamaha man pushed to the limit and set a 1'37.505s on lap 25/28. However, it wasn't enough to improve his placement in the combined results. He finished in P15 in the P2 results and in 16th position in the P1+P2 rankings, 0.797s from the top.

Morbidelli was keen to start P1, riding with a new exhaust to collect data. He put in six laps, with a best time of 1'38.735s, before heading back into the box to give his initial feedback. The time kept him in 13th place in the early stages of the session. Though the Italian improved his time on his second run, he didn't climb up in the provisional order. In the final ten minutes, he started his third and final run and temporarily secured ninth place with a 1'38.106s, set on lap 14/16, but was pushed down to 20th, 1.336s from first.

Morbido knew there was work to do and pushed hard in the hot afternoon session. He used most the available hour of practice to get up to speed. Once on his second time attack of the day, the number-21 rider booked improvement. He set a 1'37.700s on lap 21/25 to climb up to 11th. But as the pace quickened in the later stages, he fell back to 16th in the P2 classification. He found himself in 17th place in the combined results, with a 0.992s gap to the fastest rider.