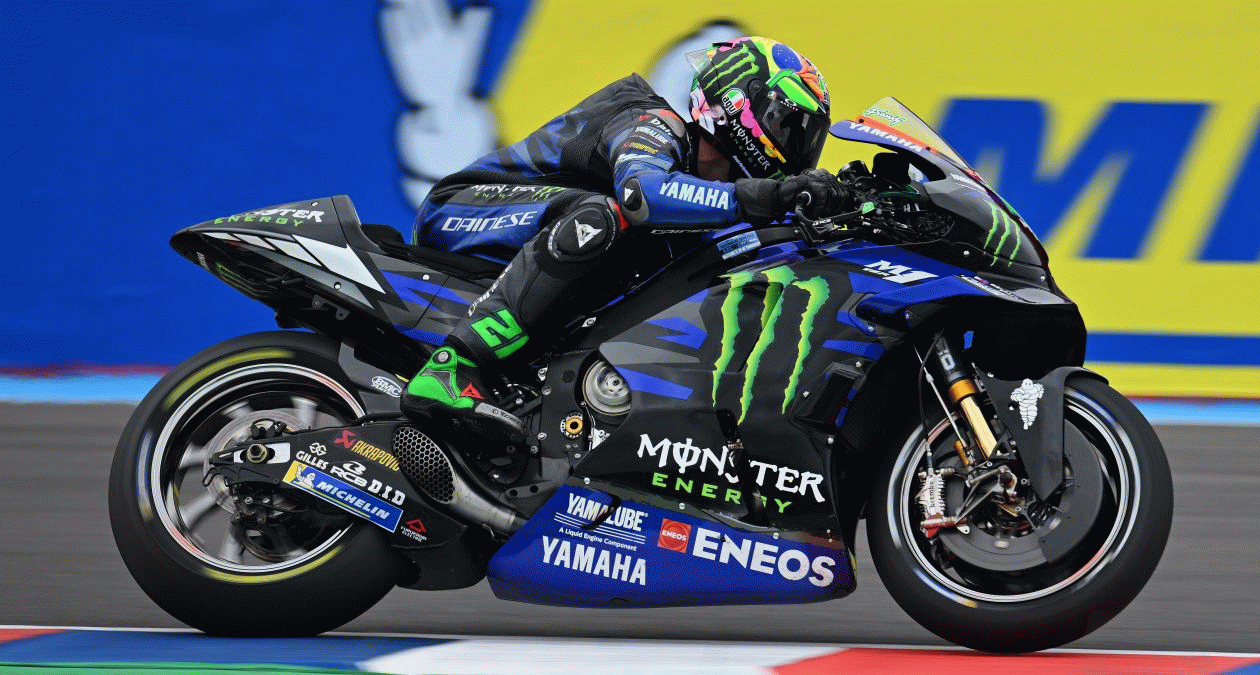 Low Grip in Argentina Means Mixed Friday Results for Monster Energy Yamaha MotoGP

Pictures for editorial use only
Copyrights 2023 Yamaha Motor Racing Srl
Monster Energy Yamaha MotoGP's Franco Morbidelli found the improvement he was looking for just a week ago at the Portuguese GP. He started the Gran Premio de la República Argentina with a strong pace, 9th in the combined P1+P2 results, and a place in tomorrow's Q2. It was an overcast day for Fabio Quartararo in more ways than one. Ranking 14th in today's overall results, he will have to take part in Q1.
Termas de Río Hondo (Argentina), 31st March 2023
Monster Energy Yamaha MotoGP's Franco Morbidelli showed strong performance in the two Friday MotoGP sessions at the Autódromo Internacional de Termas de Río Hondo, securing 9th place in the combined standings and a place in Q2. It was a difficult day at the office for Fabio Quartararo. He ended the Friday in Argentina in 14th position and will have to take part in tomorrow's Q1.

Morbidelli showed brilliant pace throughout P1. The Italian featured inside the top 3 for most of the 45-minute session and set the provisional fastest lap multiple times. Though he finished in eighth place and 0.489s off the top time in the end, with a 1'39.696s set on lap 15/16, his improved performance gave him a confidence boost for the remainder of the weekend.

The Italian kept the momentum going in the overcast but perfectly dry P2, underlining that his solid pace from the morning session was here to stay. Morbido worked diligently and managed to shave an extra 0.6s off his P1 best lap, posting a 1'39.080s on lap 21/23. It earned him ninth place in the P2 and the combined rankings, 0.562s off the fastest time, and a place in Saturday's Q2.

Things didn't go to plan in the morning session for Quartararo. His strategy was to work on his bike's settings for most of the session and then push for a hot lap in the final stages. However, he didn't have the perfect lap on his first and second try during his time attack, and he thought he had taken the chequered flag before his third lap and rolled out. He ended the session in 15th place, with a 1'40.116s set on lap 17/19, 0.909s from first.

The Frenchman was thankful that the 1-hour long P2 session was dry, so he could use the time to work on his bike's set-up. He put in a total of 27 laps and improved on his best morning time by almost a second, with a 1'39.264s set on lap 25/27. However, it was not enough to get him into the top 10. He finished 14th in the P2 and combined results, 0.746s from the top, and will have to take part in tomorrow's Q1.